I'm not one of those "Homestucks," a term that here refers to a member of the Homestuck fandom (not quite as catchy or creative a name as Trekkies, Whovians, and Bronies, in my opinion). In fact, I've only mentioned Homestuck once before on this blog, and that was to say it has the
second-worst fandom I've encountered
. I've read Homestuck and I enjoy Homestuck, but I think that it is a terribly overrated webcomic. There are people I've spoken to who could quote me as having said that Homestuck has no literary value and that studying it in a college course would be a waste of money (I've never actually said that last part but I've said something similar and implied that sentiment).
As an English for New Media major, I am now eating those words.
Homestuck is, by the way, a webcomic written by Andrew Hussie and is one of the stories he has written and hosted at MS Paint Adventures. You can find it
here
( brief warning: it starts out dull and it's a VERY long read, but it's also very entertaining once it gets moving). Homestuck, however, is not like other comics. Instead of using speech bubbles, it uses single-panel images (and sometimes animated gifs) with narration or dialogue boxes below the images. It will also occasionally include music, short videos, or even fully interactive games. There is also reader influence on the narrative.
Basically, Homestuck is an experimental, one-of-a-kind story that is taking advantage of new media in a way that very few stories are. Pretty much every other webcomic I've read could be translated to a print medium exactly as is. Homestuck is truly a webcomic, not just a comic that's on the web. It is a new way of storytelling that couldn't have existed just a few years prior. And as an English for New Media major, I can say without a doubt that that shit is worth studying. Maybe not for the story itself, but it is definitely worth examining just for how it's told.
Homestuck takes a lot of influence from interactive fiction games like Zork or Colossal Cave, and the game is framed as such. It is told in second person (getting around being told from multiple viewpoints with the running gag "you are now X") and contains text prompts—the difference being that instead of writing them in, they're already written in for you. Apparently there was originally a place for users to submit command prompts, but as the story grew more complex, Hussie had to drop it. However, he retains that same style to this day. So even from the first page of the story, a reader can tell that the story is meant to be interactive and, overall, a different kind of comic.
Hussie also takes advantage of his medium by frequently including animated gifs to give the images just a bit more flavor. The first one we see is again on the first page, but it's just the protagonist looking around a bit and blinking. The second one on the second page is what really sets the tone of how these gifs will be used. After clicking the link to the next page asking what the protagonist's name will be, we get this: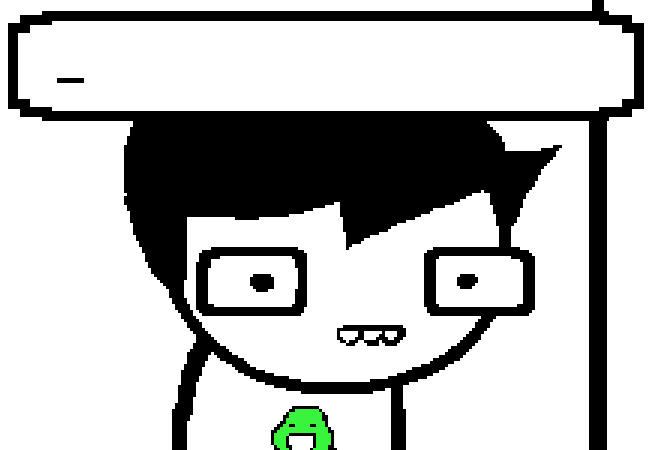 Wow. Genius. Absolutely genius. I'm not even kidding. This is a great way to introduce how gifs will be used in the webcomic. They give you a little visual gag that images alone aren't able to convey and that are too short to bother putting into video, as well as conveying just how much Hussie will be playing around with the fourth wall in about five seconds. So we're only on the first two pages of the comic, and we've learned several things:
Homestuck takes influence from interactive fiction
Homestuck may be somewhat interactive itself
Homestuck is not laid out like a traditional webcomic
Homestuck includes animated gifs
Homestuck has a self-aware sense of humor
The narrator breaks the fourth wall by interacting with the player/reader
The characters break the fourth wall by reacting to the player/reader
Eight key things (seven and a half if you don't count the second point, but I believe original readers would have discovered that it was interactive right away) that end up being true throughout the comic all the way through, and it all shows up within the first minute of reading. And that's if you read slowly.
The first act is by far the shortest and serves as an introduction to the story (as many first acts do), but it also includes a few pages with sound and concludes with a short video (consisting of animation and sound). The first game (consisting of simply walking around and clicking on objects to interact with them) takes place very early in the second act. These simple few things set the stage for the multimedia Homestuck will be using in the future.
To briefly go back to Homestuck's structure, though: The separation of image and text allows for a very interesting use of variable pacing. Sometimes, Hussie will drop text entirely and just show a series of images over individual web pages that either form a great visual gag or just provide tension. Sometimes, a single image will contain a text box with a looooooong chunk of exposition. Both are done in ways that traditional comics wouldn't be able to—the first because the images would have to be full spreads (i.e., cover both pages) to have the same impact, and the second because that much text would take up several pages and cover the entire comic with speech bubbles.
So that's how Homestuck is laid out. Just the fact that it's a multimedia, interactive comic in the first place makes it incredibly unique, but I've got more to say.
Andrew Hussie decided to make Homestuck up as he went along, scattering undefined story pieces as he progressed that he would be able to pick up later—something he referred to as "retroactive forshadowing." These objects had no real meaning when he created them, but he put them there knowing that he'd be posting the story episodically as he wrote it (itself a fascinating topic since it limits revision so heavily), so he gave himself options. Why? Because, as Hussie put it, "There was only one sure thing I knew when starting HS. That was that this thing would go batshit insane in ways I couldn't begin to imagine. In fact, it was practically the mission statement."
So how did Hussie undertake writing this "batshit insane" story? With the power of crowdsourcing. Now, Hussie ultimately has ultimate control of the comic. But a lot of what gets written is inspired by the readers and the Homestuck fandom. Characters that people like can gain more attention. Fan theories can become canon. Hussie does a lot of pandering. Why? Because, above all, Homestuck is an experiment.
The quality of the writing wavers. It wavers heavily. There are a lot of absolutely hilarious or amazing moments followed by a lot of pointless angst or terribly slow pacing. There are great plot developments, and there are things that are really, really dumb. A lot of this is due to Hussie attempting to experiment and take chances in order to gauge readers' reactions, and every writer reading Homestuck should take note of this and watch for what works and what doesn't. Let me give you just a quick example: Vriska Serket. She was
designed
to be a "base breaking" character: a character that people would have violently different opinions on. She does a jig on the line between "cool and awesome" and "too blatantly cool and awesome and also unlikable." Some people, myself included, can't stand her. She's the undisputed favorite character of others.
Basically, Andrew Hussie has a very strong relationship with his fans. It's an ambivalent one to be sure—as much as he panders to them (to the point of tweaking a few jokes when they caused some backlash), he also trolls them very heavily. The whole thing is basically a game for him, seeing how far he can push his experiment before it collapses (the answer is surprisingly far), to the point of Homestuck almost feeling like a sociology experiment. And as the writing industry changes, this sort of relationship is what we should be looking carefully at. Social media is changing the relationship between creators and readers, making the gap between them just a little bit smaller.
So how good is Homestuck as a story? I'm leaving the answer of that question up to you, since it's not important to what I'm saying. If nothing else, Homestuck is worth looking at because of how it's written. Hussie is paving the way for new media writers by taking storytelling chances and by testing reader reaction. That is the value of Homestuck, and while my opinions on it may be mixed, I hold Hussie in high esteem.